Gory Gift 4 For Those Who Bind Torture And Kill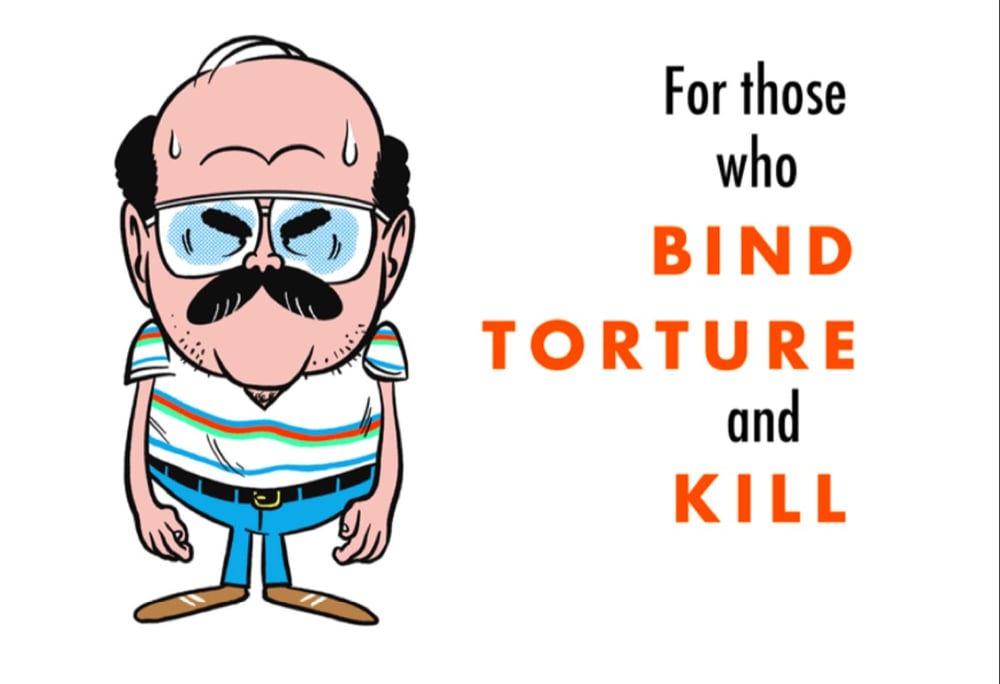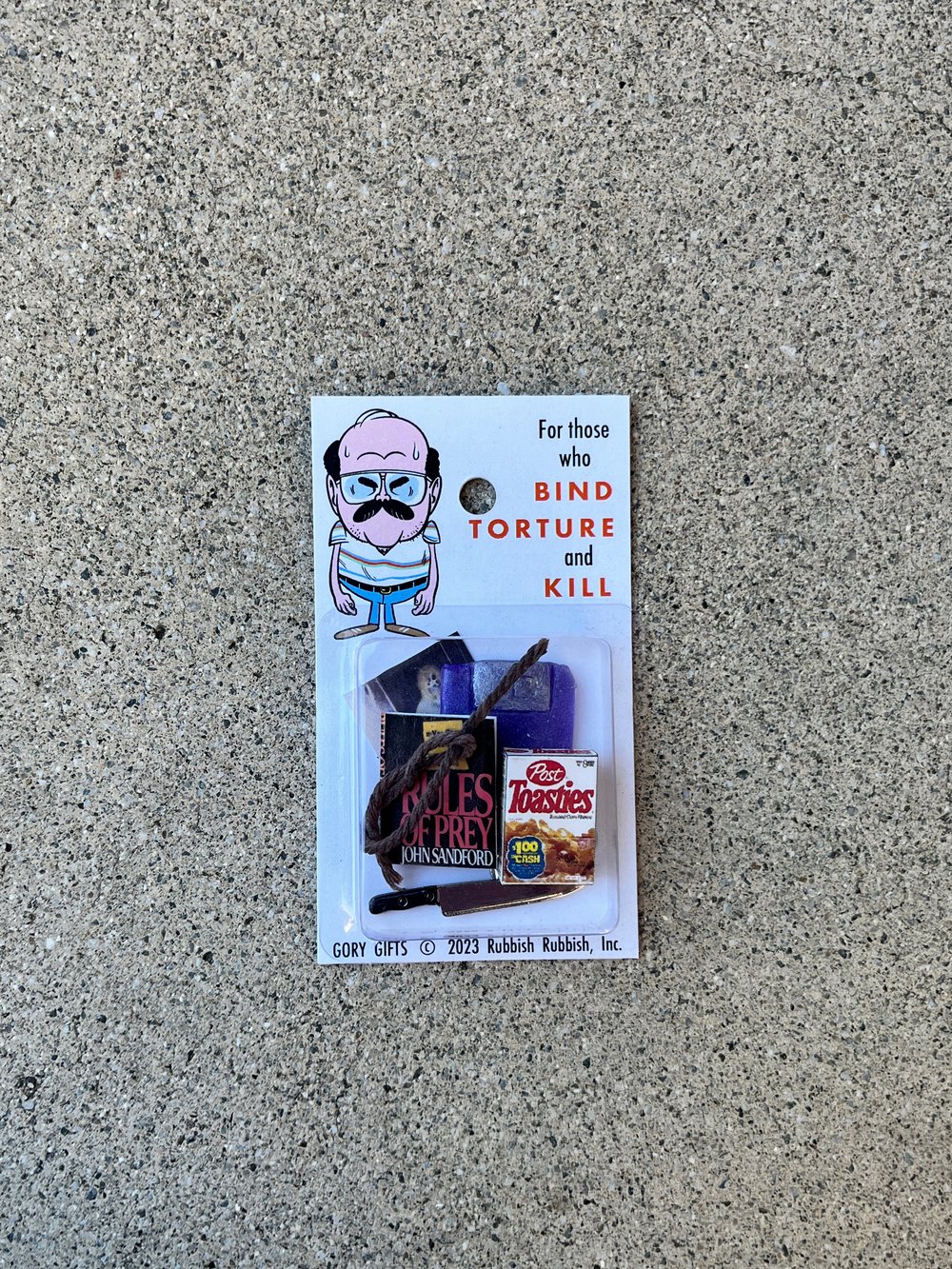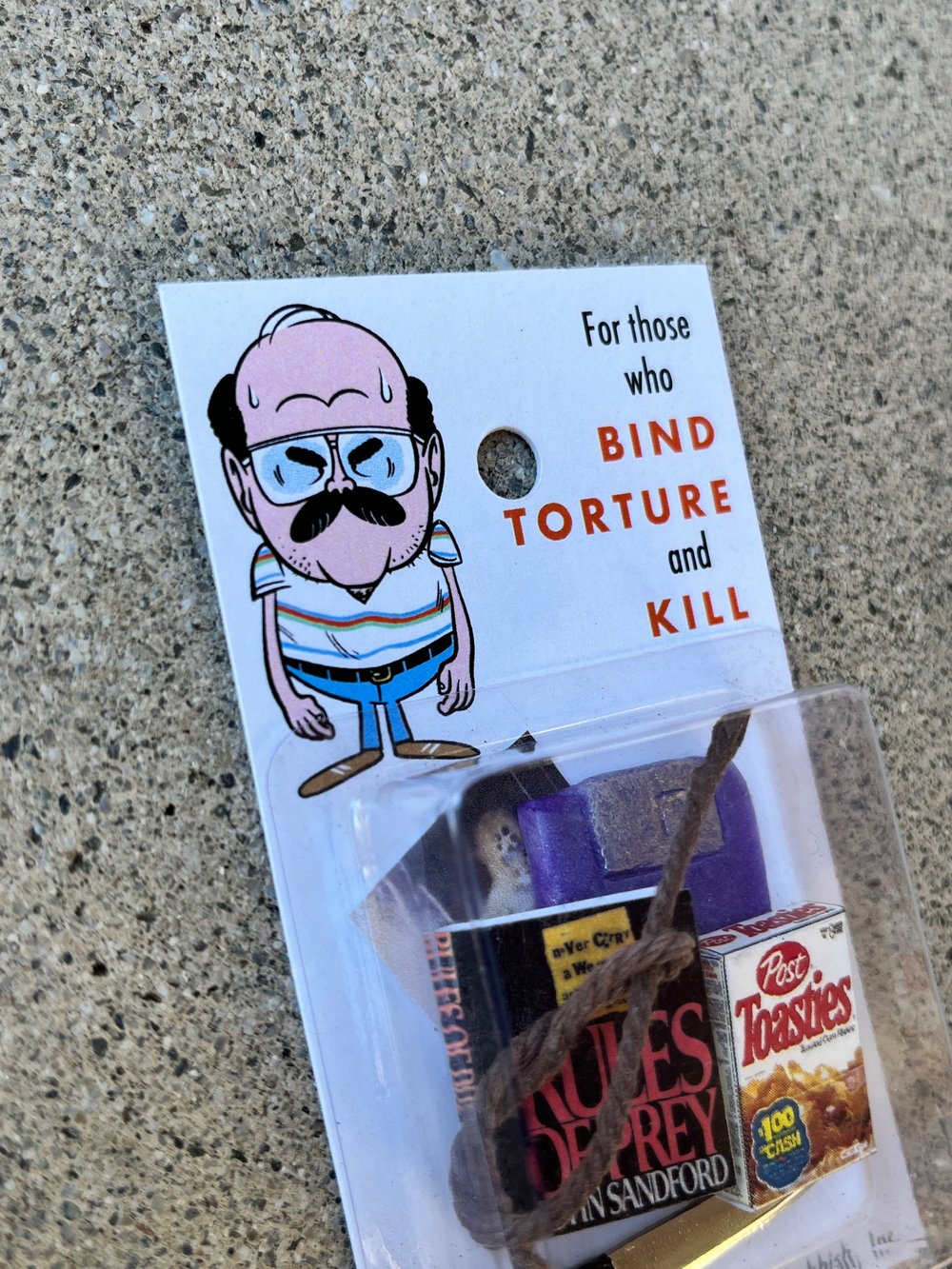 I am obsessed with Grandmother Stover's Goofy Gifts! Maybe you have seen them in my IG Stories once in awhile. The little carded treasure troves of miniature items enclosed by outlandishly illustrated blister cards have captured my attention since I first saw them on the Secret Fun Spot Blog (secretfunspot.blogspot.com). From this moment on, I couldn't get enough of these things. My love for them has only grown as I started to work on a book about Goofy Gifts with the Secret Fun Spot creator himself, Kirk D!
While pouring over these little packages I would often think of other subject matter possibilities. Many of these are already pretty out of control. The best example being the Do It Yourself Kit which provided items and imagery that suggested killing yourself was a completely fine problem solving option. Others on the fence of good taste might include: How To Solve Tax Problems, For Those Who Don't Feel Well and For Those Who Have Trouble. All of which can be seen in the book! Soon, I hope.
I guess the macabre but hilarious nature of these Goofy Gifts lend me to exploring even more ridiculous subject matter for my kit versions... and here we are. The grotesque but fascinating world of killers! I can't get enough of True Crime shows and documentaries (Search: Murder Books pin here). We grew up with the Time Life Books of Serial Killers and Mass Murders series in the house. I guess it's not a stretch that I ended up here.
Mulling over the idea of what would be in these kits for years... and how they would look - it wasn't until I came across some drawings by @HeyItsMeNate on IG that I was prompted to get these things made and out into the world. I gave Nate a cold call and he was on board. He was familiar with these crazy Goofy Gifts and knew exactly what I was hoping for. He even said he too loved true crime. A great collaboration! I think he nailed it. Gory Gifts was born!
The first batch of Gory Gifts will feature an array of villains, some will be expected while one or two might be a surprise.
Packages are:
3.75" Tall x 2.125 Wide" x .625" Deep
Package Contents:
Hand assembled and packaged by myself in Long Beach California.
A mix of custom resin cast items, vintage deadstock, and contemporary miniatures.
There will be some variations as some items are handmade or one of a kind vintage pieces. Contents may vary as well due to the nature of item sourcing. I'm trying to make them as consistent as possible. Some minor imperfections expected with handmade items. Specific variant options available in the future.
Illustrated by Nathan Sakulich @HeyItsMeNate
Shipping:
Well packed and shipped boxed from Los Angeles
Ship Date:
This week!